Verified delicious
We'll make this short and sweet… This is the only guide you need at this year's PNE Fair.

Sweet and Salty (aka "Swalty")
Would this even be the Fair if we didn't have sweet treats?
Hazelnut or "The Classic" Beaver Tails – Beaver Tails
A delectable pastry that is both crispy and chewy – all at the same time. Served piping hot!
Mini Donuts – CinCity Mini Donuts
A PNE Fair staple loved by all! Fresh, cinnamon-y goodness that is worthy waiting in line for.
Cotton Candy Soft Serve Ice Cream or Lava Whip  – Summerland Soft Serve – BCAA ToonCity
Cotton candy in soft serve form? Sign us up! This is the perfect cold treat for little ones and adults alike!
The Kinder Bueno Praguery Cone – The Praguery
An elevated cone that is out-of-this-world delicious. A cone-shaped pastry filled with sweet treats such as ice cream and fresh fruit – Or Kinder Bueno chocolate!
Salted Carmel or Raspberry 'n' cream Ice Cream – Rocky Point Ice Cream
Delicious and local small-batch ice cream. Perfect for a hot summer day.
Butterbeer Soft Serve Ice Cream – Summerland Soft Serve (Revel District)
A little Harry Potter magic at the PNE Fair! Creamy soft serve ice cream with butterbeer flavour.
Custom Slushies – Slush Zone Slushes
Custom build your own slushy creation. Warning, a brain freeze is inevitable.
Red Velvet Mini Donuts and Deep-Fried Oreos  – The Mini Donut Factory
Jazzed up classics that need to be on your food bucket list.
The Canadian with Bacon and Maple Syrup Mini Donuts – Cin City Mini Donuts (BCAA ToonCity)
Bacon, mini donuts, and maple syrup. A mix you probably didn't see coming but, is worth trying!
Kettle Korn – Canadian Kettle Korn Extreme
Salty and sometimes sweet. Get a bag (or a couple) for your next home movie night!

Meat Dreamers and Seafood Lovers
The title of this section says it all – This is for the meat and seafood fans.
The Vegetarian Nightmare or Pulled Pork Sandwich – Gator BBQ
Five rib bones, pulled pork, brisket with 2 sides – Perfect for two people! Want something just for yourself? Grab yourself a pulled pork sandwich instead – Yum, meaty!
½ Chicken or The Pulled Chicken Poutine – Henry's chicken BBQ
The 1/2 chicken has been on the menu for 62 years so it has to be good! For those that are looking for more eats, the pulled chicken poutine is perfect for you.
Pulled Pork Sandwiches – Prairie Smoke and Spice BBQ
A popular dish smothered in delicious sauce. You might need a couple extra napkins for this.
Flamin' Cheetos Corndog or Pickle Dog – Chicky's Chicken
Kick up the spice with a corndog covered in Flamin' Hot Cheetos or get some veggies in with a pickle!
Popcorn Shrimp – Shimp Boat
Our kind of boat (other than the Pirate Ship), indulge in 10 pieces of popcorn shrimp and wiggle chips, complete with chipotle aioli.
Double Donut Chicken Burger – Steve-O's Fried Chicken
It is exactly what you think it is – Two donuts for buns and freshly fried chicken!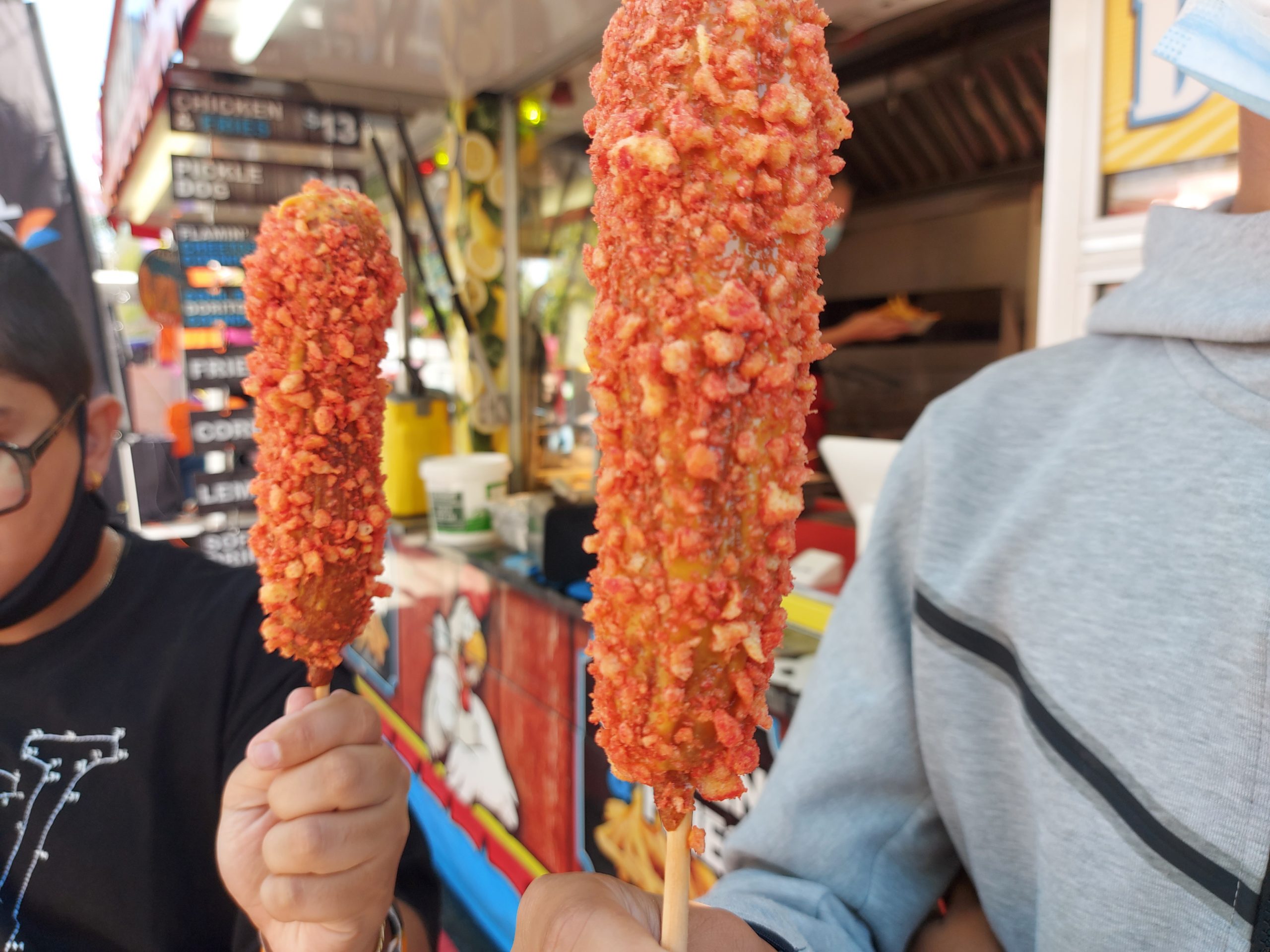 Not Your Average Dog
A classic never hurts but, these are out-of-this-world.
Double Bacon Mac and Cheese Hot Dog or "The Classic" – Super Foot Long Hot Dogs
The Classic: The famous classic dog covered in as many freshly fried onions your heart desires. Double Mac and Cheese: An award-winning premium Bacon Wrapped Foot-long covered in homemade Bacon Mac N' Cheese and topped with crispy panko.
Cheesy Korean Rice Dog – Corn Dog King
New for 2021, the Cheesy Korean Rice Dog is an Asian-inspired spin to an old-school corn dog classic.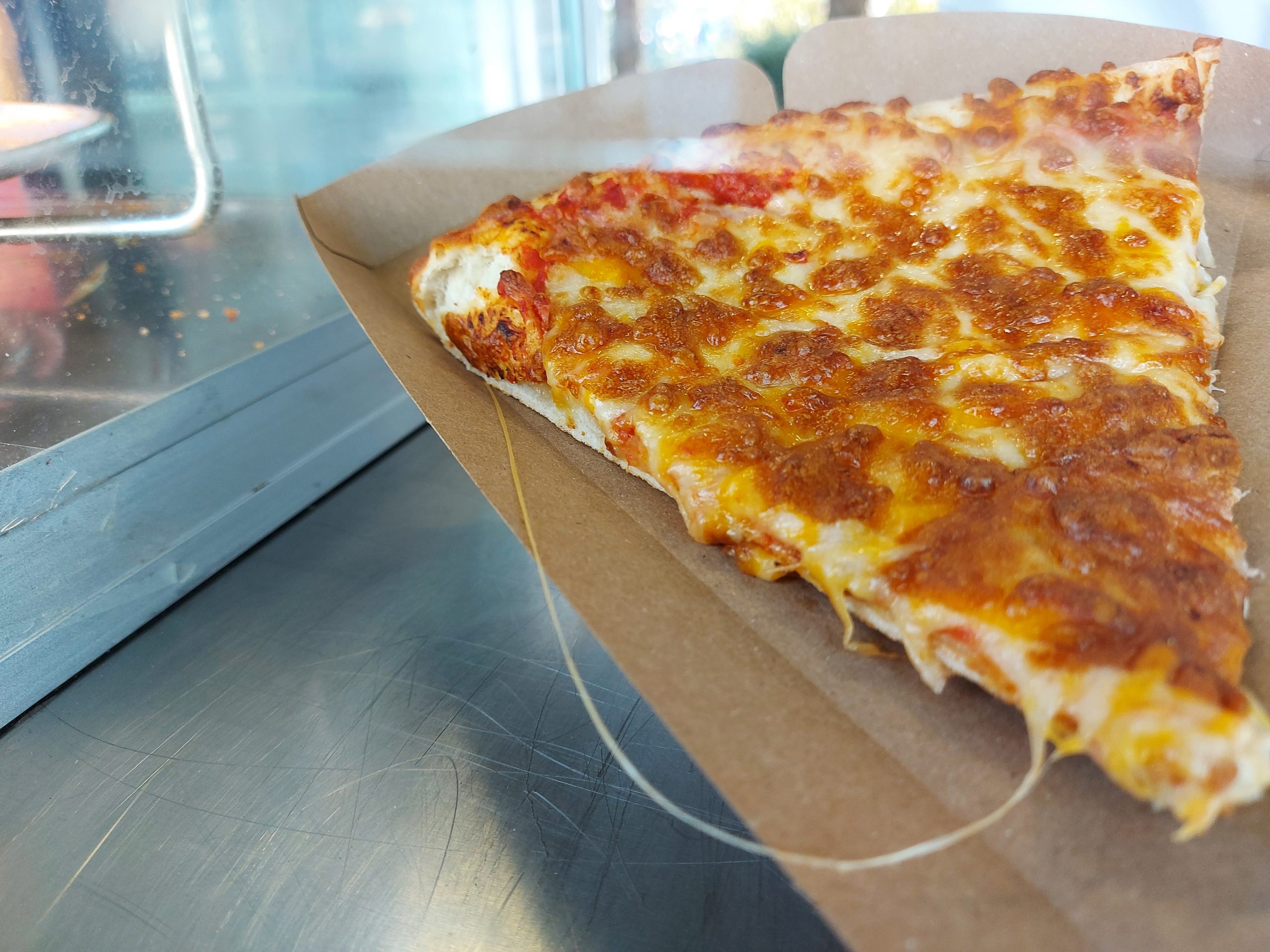 Your Daily Vegetable Intake (according to us)
These count, right?
Three Cheese or Pepperoni  – Cheeky Italian
When you just want something simple and cheesy – Pizza is the answer.
Crispy Un'Chicken Burger – Plant Butcher
This is for our vegetarians and vegans! Elevate this 100% plant-based burger with fries.
The Fully Loaded – The Colossal Onion
A basket of freshly fried onions with hot cheese sauce, bacon bits, chives, and served with a chipotle mayo dipping sauce.
Garden-za – Wood Fire Pizza
Take a trip through a fresh veggie garden – on your pizza – and yes, they do use a real wood fire oven. Garden: mushrooms, cherry tomatoes, red onions, roasted red peppers, mozzarella, feta, and pesto drizzle.
Oodles of Noodles and Sometimes Rice
For the moments you're craving hearty comfort food.
Lobster Mac and Cheese – Reel Mac and Cheese
Real butter, whole milk, select spices and an array of cheeses. Now add some beautiful lobster! Truly a masterpiece for the palate.
Chicken Teriyaki – Noodle Bar
Noodles here are cooked in water – not in oil (so it's healthier for you.) Choose vegetarian or meat options and your preferred sauce. PNE Fair visitors love the Teriyaki Chicken combo!
Teriyaki Chicken – Teriyaki Express
A bowl of yummy veggie and chicken goodness. Choose between rice or yakisoba for your base.
Potatoes, Cheese, and More Cheese
The best combo – ever.
Garlic Parmesan – Freakk Fries
The longest fries you will ever find. Top them with flavours like chipotle mayo, ranch and bacon, sour cream and cheese, butter chicken, chocolate, or choose the fan favourite – Garlic Parmesan.
The Works – Fry Guys
Crispy hot fries, cheese sauce, diced tomatoes, bacon, sour cream, onions, and banana peppers.
Parisian – Unroutine Poutine


Fresh cut, BC grown Kennbec Potatos. Four dishes to choose from including The Parisian: Braised beef, cheese curds, sauteed mushrooms, and frizzled onions. Vegetarian options are available.

Sea Salt and Cheddar Twisted Potato – Twisted Potato


Pick your flavour! Choose from sea salt, cheddar, ketchup, cinnamon sugar, BBQ, sour cream and onion, or hot powder. Our personal favourite: Sea Salt or cheddar.

Rainbow Grilled Cheese – Melt Town Grilled Cheese


A colourful twist on a classic dish. The rainbow grilled cheese combines luscious cheese with plant-based dye to create a rainbow-like cheesy creation! Instagram worthy.

The Coca-Cola Family Meal Deal and the Wild Fries  –  Jimmy's Lunch
The perfect family combo! Two hamburgers, two hot dogs, two large fries and 2 drinks! Throw in a side of  fresh-cut fries topped with cheese, Jimmy's famous onions, and their secret sauce.
Non-Travel World Eats
No passports are required.
Quesa Birria Tacos – Los Tacos Hermanos


Tacos, burritos, fries, nachos, and delicious sides! Try the most popular dish on the menu: Quesa Birria Tacos. Vegetarian options available.

Dim Sum Combo or Shrimp Dumpling – Dum Sum Express
A filling meal that includes shrimp dumplings, pork dumplings, pan-fried dumplings, sticky rice dumplings, spring rolls, and a BBQ pork bun. Shrimp dumplings can also be bought alone.
Perogies and Sausage – Hunky Bill's Perogies
In 1967, Hunky Bill had a mission – To get himself a booth at the PNE and win himself a $10 bet with a friend. It took an hour of pleading and arguing but, Bill won us over and the bet. Oh, and those perogies and sausages – We're still obsessed with them till this day.
Jerk Chicken Rice Bowl and Bom-bas-tic Smoothie – Jamaican Mi Juicy
The newest addition to their mouth-watering menu, the jerk chicken rice bowl is what dreams are made of. Don't forget to add a refreshing smoothie like their #1 best seller, "Bom-Bas-Tic."
Beef and Lamb Gryos – NC Gourmet Grill
Calamari, poutine, greek gyros, chicken gryos, and veggie falafels! The perfect Greek meal does exist.
Thirst Quenchers
Ah, refreshing! Lemonade is available at Fresh Lemonade and Lemon Heaven.
For those who crave caffeine (hot or cold), head over to Cheyenne Coffee!
Alcoholic Beverages
New for 2021! Alcohol is permitted throughout the park (outdoor only.) Grab a drink, find a shady spot, and relax.
Assorted Drinks:
The PNE Fair Bar
Drinx (Various locations)
Revel District Bar
Stage Left Bar
Specialty Drinks:
Trash Panda Hazy IPA, Craft Lager, Craft Pilsner, Peach Bod, Jerkface 9000 – Parallel 49
Vodka Pink Lemonade, Vodka Lemon Tea, Moscow Mule – Drink Muddlers
The PNE Fair runs until September 6th, and tickets are selling out! Grab your required advance Fair gate admission and ride passes on ticketleader.ca! Don't forget – Bring your stretchy pants and your appetite.