The best part of summer is back!
On now through September 6 (11am-11pm)

The PNE is honoured to be able to host our 111th annual Fair:
a reduced-capacity, limited-scope event that still delivers all the FUNdamentals you know and love.
SuperDogs ✅ Lumberjacks ✅ Mini Donuts ✅
We've got all your favourite can't miss shows and attractions, including live music on the Coca Cola Stage, BCAA ToonCity shows, and Safeway Cooking Stage demonstrations,
plus agriculture displays, MarketPlace, Prize Home display suite, rides, games, and all the Fair food you can eat!
Also back by popular demand: For the Love of Drag show, PNE Pep Band, and Electric Fire – the nightly pyro musical finale.
New this year: Metro Vancouver – Together We Make Our Region Strong showcase, TransLink's Reconnect exhibit, and the Comedy Corner.
Please note that the 2021 PNE Fair will operate with reduced capacity, under all applicable
Provincial Health Office orders with the health and safety of our guests as our primary focus.
See safety guidelines below.
Advance tickets are required.

Gate & Ride Pass quantities are limited and may sell out in advance.
PNE Fair Evening Deal: $7 after 7pm
When the sun goes down, join us for a meal, a drink, or a show!
Groove to the bands on the Coca-Cola Stage in the Revel District, play the casino wheels, and marvel at the Electric Fire pyro finale at 9:45 in the PNE Amphitheatre.
Limited tickets are available and advance tickets are required (not sold at the gate). Ride passes extra, if not sold out.
Know before you go
When you're planning your visit to the PNE Fair, please keep the following in mind…
Masks are required in the Livestock Barns, Marketplace and Prize Home Display (any indoor areas). They are strongly recommended throughout the site.
There will be ample hand sanitizer stations located throughout the Fairgrounds to keep your hands clean.
Please do not visit if:
– you have a sore throat, cough, fever, shortness of breath, difficulty breathing, or any other flu-like symptoms
– you have been required to self-quarantine in the last 14 days
– you have had any contact with a confirmed or probable case of COVID-19 in the last 14 days
There are no "ins and outs" at the Fair this year. If you leave, you cannot return without paying admission again. This is to maintain accurate capacity counts.
The PNE's primary form of payment is contactless cards (debit/credit/gift cards). Some vendors will not accept cash. PNE Gift Cards (for use at PNE bars and games) are available at Guest Services in the Livestock Barns or near the Playland gate.
Parking is limited. See locations on the map, or plan to take Transit to the PNE with this planning tool.
Entrance gate are located on Miller Drive (near the Hastings Racecourse), at Playland (Hastings & Windermere), and on the west side of Hastings Park near the PNE Agrodome (see map below)
The 2021 PNE Fair Map & Entertainment schedule can be downloaded as a PDF. App links to come.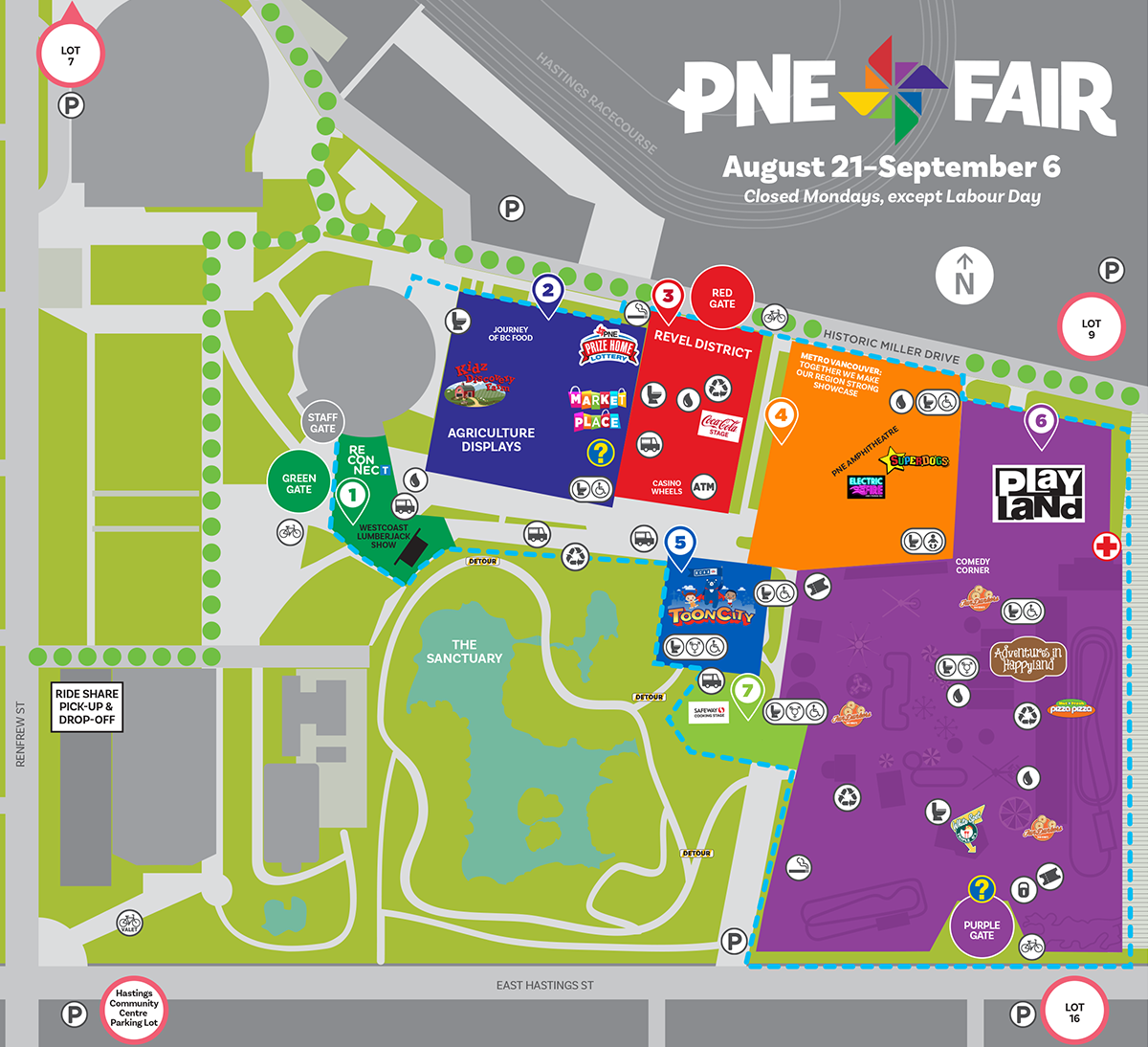 We will continue to prioritize safety with a lower numbers of guests in the park, greater physical distancing, frequent sanitizing, and recommending mask wearing.
Fair Food
Come hungry!
There's so many of your favourite Fair food items, that you'll want to leave space in your belly to try them all!
This year's line-up of vendors includes:
Los Taco Hermanos, S&L Concessions Candy Floss, Slush Zone, Summerland Soft Serve, Cheyenne Coffee, Lemon Heaven & Cin City Mini Donuts, Cin City Donuts, Dimsum Express, Extreme Kettle Korn, Freakk Fries, Steve O's Homestyle Fried Chicken, Fry Guys, Gator BBQ, Henry's Outdoor Chicken BBQ, Jamaican Mi Juicy, Japanese Teriyak Express, Reel Mac and Cheese, Colossal Onion, NC's Gourmet Grill, Corn Dogs, Foot Long Hot Dogs, Plant Butcher, Shrimp Boat, Cheeky Italian, Unroutine Poutine, Muddlers Lemonade Stand, Jimmy's Lunch, The Praguery, Prairie Smoke & Spice BBQ, Saltspring Noodle Bar, Chicky's Chicken, Red Velvet Mini Donuts, Grilled Cheese, Twisted Potato, Urban Wood Fired Pizza, Hunky Bill's.BeaverTails, Buen Gusto Tacos & Totchos, Cheese Please, Coaster Dogs, FunDunkers, Scoops Ice Cream, Shrimp Boat, Treat Thyself Candy Apples & Floss, and Triple O's.

SuperDogs™️
The SuperDogs™ are jumping for joy and thrilled to be back at the Fair with their, brand new celebration of fun, Happy Together!
Catch all the skills, surprises and silliness outdoors at the PNE Amphitheatre and fall in love with these furry friends all over again!
1:00/3:30/7:00pm daily, in the PNE Amphitheatre

West Coast Lumberjack Show
A PNE Classic returns.  Come cheer on the Lumberjacks! 
Watch the fast action chopping, high speed chainsaws, cross-cut sawing, Log Rolling, Flying Axe Throwing, and then make some noise as they climb the giant spar pole.
2:00/4:30/7:30pm daily, near the Agrodome plaza

Coca Cola Stage (Revel District)
Get ready to revel in fun, food and fantastic shows at the PNE Fair's entertainment zone!
With multiple bar locations and tasty barbecue food smoked over a traditional open charcoal pit by BBQ pit masters, there are many reasons not to miss out.
For the Love of Drag
Feast your eyes on the fierce performances of some of Vancouver's drag superstars! Tuck Entertainment presents a menagerie of drag queens nightly on-stage serving outrageous looks and breathtaking performances to some of your favourite pop songs. If you've never been to a drag show before, "For the Love of Drag" is the perfect chance to indulge your wild side!
4:30/6:15pm daily

Live Music Stage
The highly anticipated experience of live music can once again be enjoyed at the 2021 PNE Fair! Visitors can grab a delicious bite or beverage, stay late and party the night away with entertainment that never stops.
Afternoons at 1:30 & 2:30 and night shows at 7:45, 8:45 & 10:00pm

BCAA ToonCity
Bring the kids to BCAA ToonCity to enjoy entertainment specially created for the younger ones in your group.
This year's stage shows include:
Bones & Scully, 'Tis Fun to be a Pirate
Join Bones, Scully and their bumbling crew of pirates as they defend the title of "Pirate Crew of the Year"!  Help them defend their treasure from the Bandits of Pirate's Bay in this action-packed musical.  Adventure awaits!
Daily, 12:30, 2:30 and 5:00pm
Blue's Dance Party
Bring the family to sing and dance with Blue the Bear and his friends in this interactive multimedia dance party!
 1:30 and 4:00pm daily

Family Flicks
When the sun goes down, join us for your favourite family movies on the big screen nightly at ToonCity – a perfect outdoor movie night for the entire family.
7:30pm nightly
Safeway Cooking Stage
The past year has seen a resurgence of families shopping and cooking at home.
We welcome you to visit the Safeway Cooking Stage with mouth-watering culinary inspiration highlighting new flavours from around the globe. Combining local agriculture industry highlights, local chefs, and opportunities for families to be the star of our show, each day will bring a new variety of recipes and techniques for guests to learn and try in their own kitchens.
2:00, 4:00, 6:30pm daily
We are looking for families/chefs who would like to share how they prepare their favourite recipe on the Safeway Cooking Stage.
Metro Vancouver's Together We Make Our Region Strong - Showcase
Metro Vancouver delivers the vital services that make our communities livable.
From jaw-dropping, critical infrastructure projects to awe-inspiring regional parks to planning for growth and the stewardship of over a quarter of the region's land base, they will showcase the projects and initiatives essential for a resilient and sustainable region. Visitors to the Metro Vancouver showcase will leave inspired about where they live and understand a little better the many different activities taking place to make this one of the most livable regions in the world.
11am-11pm daily in the PNE Amphitheatre
Translink's Reconnect
Reconnect with Transit. Reconnect with Metro Vancouver.
Visit TransLink's activation to Reconnect with transit and learn about all the projects, services and initiatives underway. Hop on board the vehicles on site including a new Reconnect Outreach Bus, a 1957 Historical Museum Bus and a Double Decker. Also be sure to check out immersive Micro-City 3D Transport 2050 model and share your ideas to help improve our transit system.
11am-11pm daily in the Agrodome Plaza

Agriculture Displays
For 111 years, agriculture has been the heart of the PNE Fair, and the goal has always remained the same – to showcase BC's vibrant agriculture industry to our guests.
Every year, a farm within the city is created inside the historic livestock barns allowing our guests to experience an array of farm animals, interactive educational exhibits as well as access to connecting with authentic and informative agriculture producers from a range of agriculture sectors. Through partnerships with BC Dairy Association, BC Cattlemen's Association, BC Egg Marketing Board, and BC Chicken Marketing Board as well as BuyBC, the exhibits at the Fair enable visitors access to experiences that can't be found anywhere else in the city limits!
Daily: 11am-10pm, in the Livestock Barns
Farm Country
Take a break from the hustle and bustle and stop by Farm Country to relax into a showcase of BC Agriculture!
Adorable baby animals, educational displays, children's exhibits along with a variety of shows and demonstrations make this an unforgettable experience.
Daily: 11am-10pm, in the Livestock Barns
Rides & Games in Playland
Vancouver's favourite amusement park offers safe, family fun, thrills, games, and attractions!
Playland has over 25 rides and attractions – including the sky-scraping Atmosfear and The Beast's fantastic five g-forces of fun. There are also more than 15 family and kids rides for you to enjoy together, including Bug Whirled, Flutterbye, and Dizzy Drop.
A Fun Pass is $29.50 and provides all-day access to the kids & family rides. A Thrill Seeker Pass is $39.50 and provides all-day access to all rides, including the thrill rides (which have a minimum height requirement of between 48-54 inches tall).
Rapid Passes allow you to skip the line at 7 select thrill rides for an add-on cost of $27. They are only available on weekends, at on-site ride ticket booths, while quantities last.
*Please note: The Wooden Roller Coaster will not be operating during the 2021 PNE Fair.

Visit this page for a full list of operating rides.
A Fair Gate Pass (admission) is required in addition to the ride pass. Ride passes will be  limited and can sell out, so buy your passes early at ticketleader.ca
The Challenger Map
The Challenger Map, also known as the BC Relief Map, was a beloved PNE attraction for decades, enjoyed by millions of visitors from 1954 until 1997. The map was retired when the BC Pavilion building was deconstructed in the late 90s. Handcrafted with love by forestry mogul George Challenger and his family in the basement of their home, it was a gift to all British Columbians. Though it hasn't been at the PNE for almost 25 years it is still one of the attractions that the PNE team gets asked about most often. We're excited to have a section of it back on display at this year's PNE Fair, while we work towards restoring the entire map for a future exhibit.
Marketplace
The Marketplace has been a well-known PNE tradition for years.
This year visitors can browse and explore more than 50 exhibit booths in the historic Livestock Building. Featuring a variety of products, the Marketplace is bound to have unique finds for all our guests.
11am-10pm daily in the Livestock building
Electric Fire - A Nightly Pyro Musical Finale
Feel the heat!
Don't miss our pyro musical finale, featuring live performers and high-voltage intensity!
9:45pm nightly
Atmospheric Entertainment
PNE Pep Band
Always a crowd favorite at the PNE Fair, kick your day into high gear with the PNE Pep Band's high-energy concerts that will be held throughout the fairgrounds daily.
Daily
Comedy Street Corner
Get ready for zany fun and crazy antics with daily comedy street shows – be careful, you may be pulled into the act.
Daily
Tickets must be purchased for a specific day
Getting In (Includes admission to shows & attractions. Rides are not included.)
Fair Gate Pass (ages 14 - 64)
$15
Fair Senior Gate Pass (65+)
$12
Fair Child Gate Pass (6-13)
$12
Kids 5 and under

*Please reserve free tickets for 5 and unders when purchasing adult tickets. A maximum of five children aged 5 and under will be admitted with one paying adult 21 years of age or older.

FREE*
Fair Gate Pass - After 7pm
$7
Fair Season Gate Pass & After Dark Passes
Not available for 2021
Rides & Add-ons
Playland Thrill Seeker Ride Pass (48" & taller)
$39.50
Playland Fun Pass (Kids & Families rides only)

One parent can ride for free with a paying child (48 inches and shorter) on the following rides: Balloon Explorers, Glass House, Honey Bee Express, Merry Go Round, Tea Cups, Flutterbye (below 36 inches not permitted), Super Slide (below 38 inches not permitted), West Coast Wheel (below 36 inches not permitted)

$29.50
Rapid Pass (weekends only, available on site)

Only available on weekends, at on-site ride ticket booths, while quantities last

$27
Twilight Ride Pass
Not available for 2021