Pinwheel News Community Newsletter - Spring 2021
Greetings from the PNE Executive
I hope you and your families are finding time to enjoy the sunshine and are staying safe & well. I am pleased to report that 2020 wrapped up with a very successful WinterLights program, bringing a magical experience to close out the year.
While COVID-19 continues to have significant impacts throughout our region, we are beginning to see a sense of optimism that our "new normal" is just around the corner.  This past March, the PNE team joined the Province of BC, Immunization BC, and Vancouver Coastal Health to deliver vaccines to the community.  We are very proud to be a part of this community partnership and are one of many tourism and hospitality organizations to support the rollout of vaccines to the Lower Mainland.
Safety remains our top priority for 2021. To make it safer for pedestrians and cyclists using the greenway through Hastings Park we added traffic bollards at the opening of the 300 foot stretch of roadway between the Pacific Coliseum and Agrodome to restrict vehicle traffic access. We removed some aged and worn play zone attractions and are currently working on a playground refresh plan for 2022. And, we continue to have our site-wide security personnel on duty 24/7 patrolling the site looking for safety hazards while being ambassadors for guests enjoying the park.  Our security team can be reached directly at 604-505-4135.
Spring has sprung and our gardening team is busy adding vibrancy back into the park after a long winter season.  This year you will see some new features springing up at some of the gates along Hastings Street, adding new colours to these entrances.  In early April the sanctuary was filled with fish again and fishing continues to be a strong attraction on the site. We are also very fortunate to have our new partner Urban Roots Garden Centre join us onsite from March through June offering easy access to the stunning annuals and perennials for the community.
The announcement of Playland opening on May 1 was met with excitement this week and we are looking forward to an amazing season of mini donuts, roller coaster rides and the sweet new additions to mini golf.  We were very successful in 2020, where we welcomed over 40,000 guests to our site without incident of exposure.  Our COVID-19 safety protocols are supported by Vancouver Coastal Health and we will continue to support all public health orders ensuring people stay within their respective health authorities.
We are continuing to monitor the public health order on mass gatherings. As the restrictions evolve back to normal, we will build out the Fair experience best aligned to those restrictions while still giving British Columbians their iconic end of summer moments that have become traditions in their families.
In addition to the Circus West programs, community ice, and the Hastings Park Farmers Market, our events team is preparing for a return to business this coming fall when we will have an exceptional line-up of entertainment, activities, and attractions for everyone to enjoy.
On behalf of the entire PNE team we wish you well and look forward to seeing you at the park.
Stay Safe!
Stacy Shields
Acting President and CEO
PNE WinterLights a Shining Success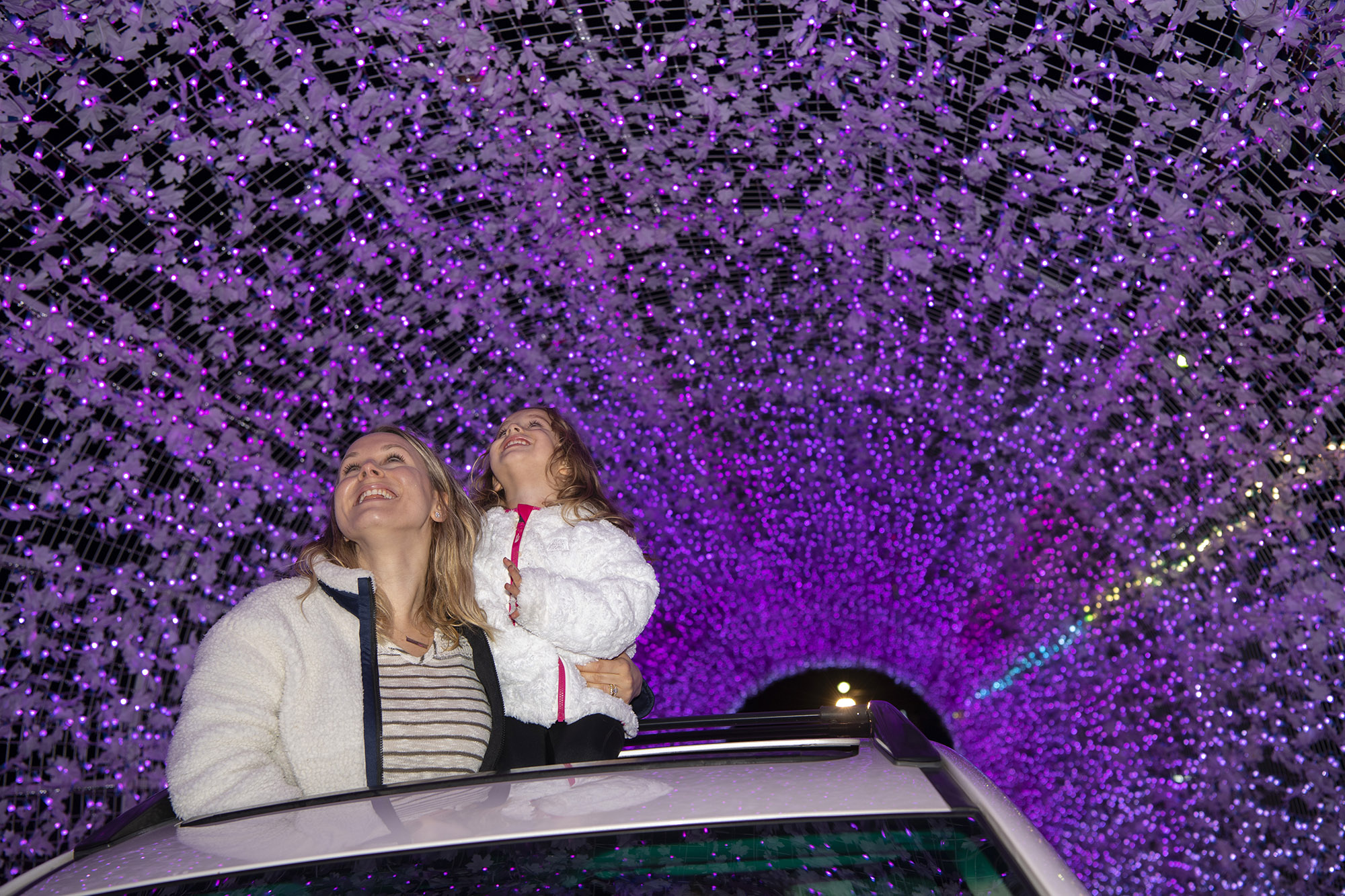 PNE WinterLights was a success for both our community and families of the Lower Mainland!
The PNE saw over 22,000 cars and 65,000 guests come through the experience. Our food vendors which are all local small businesses, generated over $170,000 in revenue. WinterLights also raised $68.648.54 for the Greater Vancouver Food Bank, making the PNE the top fundraiser for the GVFB through the Christmas period.
Another highlight that was captured by City News, was that of Chantal Cobb and her family are getting a much-needed Christmas cheer as one of her sons battles cancers for the fourth time. The PNE made it possible for Cobb and her family to enjoy the lights and sounds of WinterLights and create new memories to cherish.
Playland to Open in May
Playland is expecting to open May 1st!
This season we are celebrating all that makes our Playland community special. Join us for National Donut Day on June 4th with Fun Dunkers Mini Donut contests and give-aways. Be sure to "swing" by our updated mini golf course for an extra sweet experience. Our famous Wooden Roller Coaster has recently earned a spot with a top 10 ranking of the best wooden coasters in the world coming in at #7.
Playland will continue to promote "Safe, Clean Fun" with physical distancing, lower capacities, frequent sanitizing, and mandatory masks required as we continue with Covid-19 prevention protocols. Guests should comply with public health orders, and not travel outside of their local health authority. Read the Playland Safety Guidelines.
Be sure to check www.pne.ca/playland for updates on this year's exciting theme weekends and other promotions.
Tickets are limited, so book your Playland passes in advance, to ensure your preferred date is not sold out.
Paid Parking in PNE Lots
Starting May 1, 2021, some of the PNE parking lots will become monitored paid lots. The effected lots are 9B and 9C (North of Empire Field) and lot 16 (across from the Playland main entrance). These lots will be managed by EasyPark and rates will be in effect 24 hours a day, 7 days a week.
Please follow all signs for instructions on rates and how to process payment. During Playland operating hours, an all-day rate of $15 in lot 16 will apply.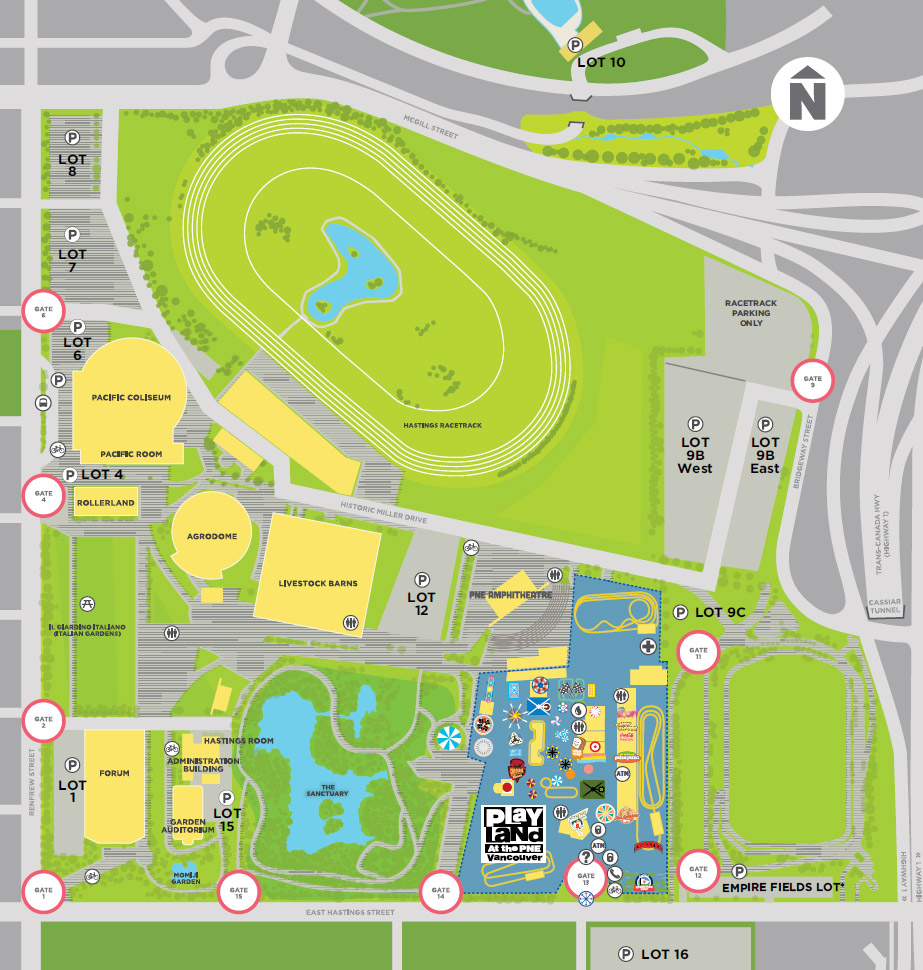 Urban Roots Garden Market now open in Hastings Park parking lot

Spring is in the air, and things are blooming everywhere!
This is an exciting time of year for gardeners, but this season is marked by another exciting development: Urban Roots Garden Market is now open in Parking Lot 16 – directly across from the Playland entrance at Hastings and Windermere streets.
Spring Gardening Checklist: Everything you need to know to get ready for spring gardening
Aren't you ready for spring weather? After a long (and cold) winter, there's almost nothing as exciting to gardeners as the idea of a new season. When it comes to prepping for your next spring gardening marathon, you'll want to make sure that you (and your garden!) are ready to go. After all, there's nothing better than that first day spent in your garden once the frost has melted and the sun seems to be sinking in.
Spring Garden Preparation Checklist
Checklist Item #1: Get organized
They don't call it spring cleaning for no reason. Take a few hours pre-spring to get organized. Whether you're cleaning out the shed or recycling broken pots, do some upfront work to make sure that you're ready to go come garden time. Clean off your tools, sharpen blades, organize your area and get your space ready to go. This goes for your gardens, too — if you have weeds, dead plants or mulch, get them out! You'll be so much happier that way.
Checklist Item #2: Prune, prune, prune
Late winter and early spring are the ideal time to prune what needs it in your garden, and it's one of those tasks that's much easier before the beautiful weather shows up. Since you'll have a better glimpse of what needs to stay and go, late winter and early spring offers you more options — which will then make spring much more fruitful for your garden itself. Take the time now to prune your woody ornamentals, crepe myrtles, dogwood bushes, and the like.
Checklist Item #3: Get your soil ready
Post winter, your soil might be nice and compacted. Your job? Loosen it back up and start to prep your soil for work. Work it around 12-14 inches to loosen it, mix in fresh mulch, and add compost and necessary additions. Keep an eye on moisture, water, and soil quality — and then work accordingly.
Checklist Item #4: Make it pretty
Next up? Beautify those gardens of yours! This is the fun part, and it reminds you why you love springtime gardening as much as you do. From installing window beds and finding new siding to ordering new pots and thinking strategically about your area, take your time pre-spring to ready your beds and prepare your blank canvas.
Checklist Item #5: Visit your local garden market
Visit your local garden market, stock up on what you need and refer to gardening experts for all of your questions and concerns.

Greenway Changes
To improve site traffic safety, traffic bollards will be placed at the openings of the 300ft stretch of roadway between the Pacific Coliseum and Agrodome to restrict vehicle traffic access. This stretch of roadway was converted to a multi-use pedestrian and cycling greenway several years ago by the City of Vancouver. The return of traffic bollards in this area will make it safer for pedestrians and cyclists using this greenway.

Update on Columbus Statue
The Dreamer was installed at Angelo Branca Plaza in 1986, as part of Translink's provision of public parks and plazas in Expo Line right of way. A reproduction of Giulio Monteverde's 19th century sculpture Il Colombo Giovanetto, it was (going by inscriptions on its pedestal) donated by the City of Genoa. The sculpture was moved to Hastings Park during the creation of Il Giardino and is considered part of the City of Vancouver's Public Art program.
As reported in the last community newsletter, in recent years, the statue has been the target of several protest actions, ranging from red paint to temporary modifications of the engraving on its current pedestal, which refers to Columbus as someone who "discovered the unknown lands of the new world."
The PNE and the City of Vancouver Public Art team collectively decided, as an interim measure, that the public art office would remove the statue from its current site and place it in storage. This action will ensure the physical safety of the object while a more deliberate process considering existing commemoration in the city proceeds.


Playhouse Changes
Over the past few years the playhouses and other playground attractions found in Italian Gardens by Rollerland have become weathered and unsafe. To ensure the safety of the playground area for the children, we have removed the previous attractions and refurbished the ground surfaces. Over the next year, the PNE will be developing a plan to revitalize this playground area. The plan will be put together in consultation with our community advisory group, community partners, and will align with the Hastings Park redevelopment plan.