PNE WinterLights
One night left! Celebrate New Year's Eve in the safety and comfort of your car!
Load up your family sleigh for a magical holiday journey through Hastings Park!
Grab a hot cocoa, crank up the carols, and prepare to enjoy this safe and entertaining experience from the warmth of your car. You will be transported through nine enchanted lands filled with glowing lights, special characters and festive performers along the way.
Proceeds from WinterLights ticket sales, up to $50,000 will be donated to the Canadian Red Cross and will be matched by both the Provincial and Federal governments.
New this year: Snowglobe Village, another illuminated tunnel, and even more sparkling lights!
To start this road trip off right, first pick up some snacks, warm beverages, and light-up gear…. then tune your radio into Santa Radio 90.3 FM to hear all the jolly jingles.
Next it's off to the land of Winter Creatures… look out for foxes, seals, and giant moose! In Polar North, you'll trek through the snow and around the igloo. Do not feed the bears!
Experience the Northern Lights in Vancouver, as you're transported through an incredible tunnel to the Festive Forest, and then through another illuminated portal to the Village complete with live performers in giant snow globes.
Then, turn down Santa Street and weave through the dancing lights towards the giant tree. Keep your eyes open for the man in the red suit! Don't forget to stop at the Food Truck Zone for some extra treats or a meal for the trip home!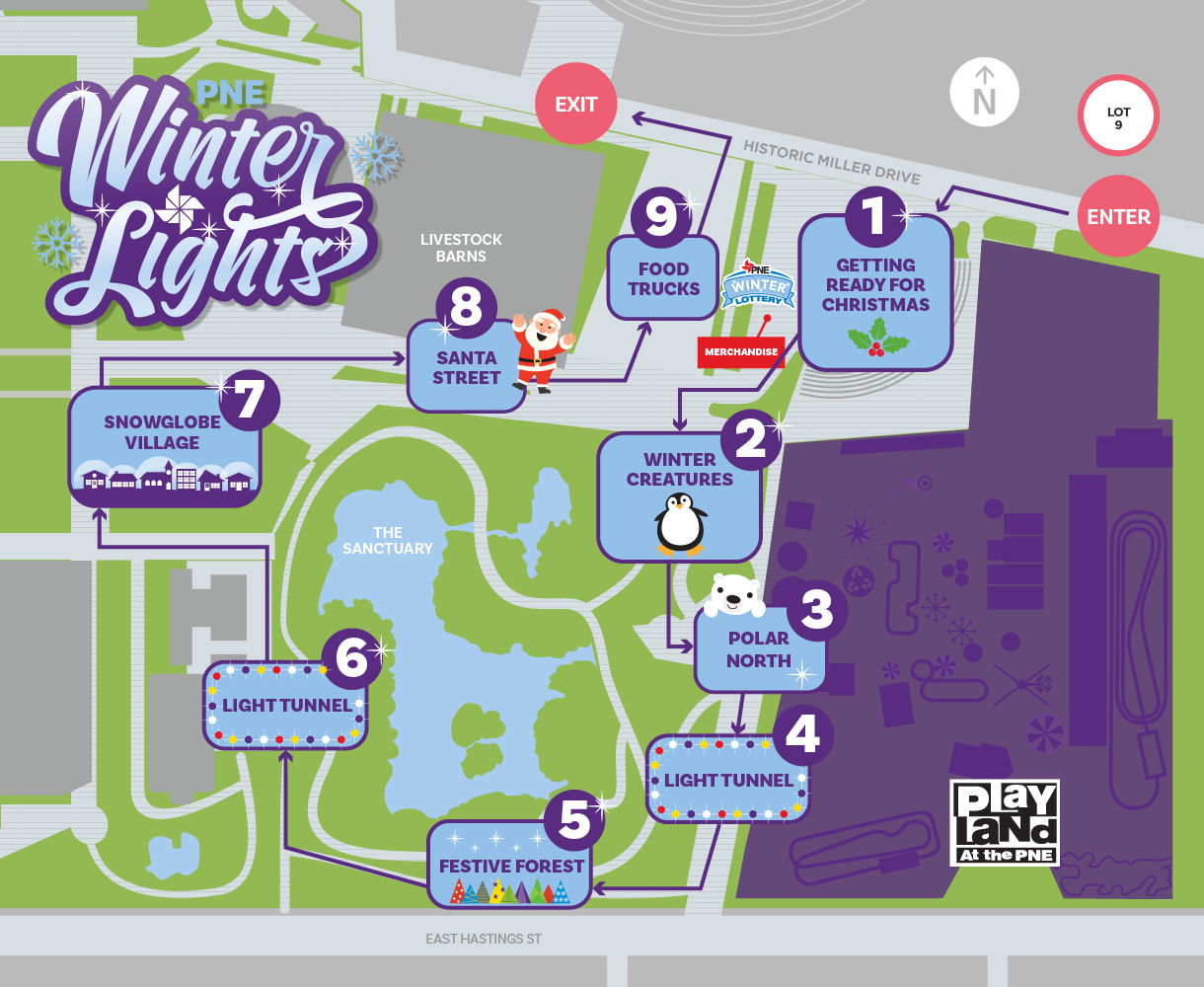 Share in the Celebration
We encourage you to decorate your car for PNE WinterLights, and share your photos/videos with #pnewinterlights
Reindeer Shuttle presented by TransLink
No car? No problem!
PNE WinterLights has partnered with TransLink to offer an alternative to driving your own vehicle around the magical holiday light displays.
Enjoy this event from the comfort of the Reindeer Shuttle presented by TransLink!
The Reindeer Shuttle is available 4:30-7:30: December 9-12, 16-23. Cost varies by date ($10-$14)
Important info:
Masks are required in the shuttle but proof of vaccination is not required
Pick up/drop off takes place in the PNE Forum parking lot, just west of the PNE Forum at Hastings and Renfrew Street by the Gate 2 entrance
You can request to be dropped off at the food trucks after the tour through WinterLights, but you're on your own (on foot) after that.
Boxing Week Deal
Save $10-15
Late night tickets are now on sale for just $27 per carload for late night time slots (9:30pm and later) December 26-31.
Thank you to our sponsors!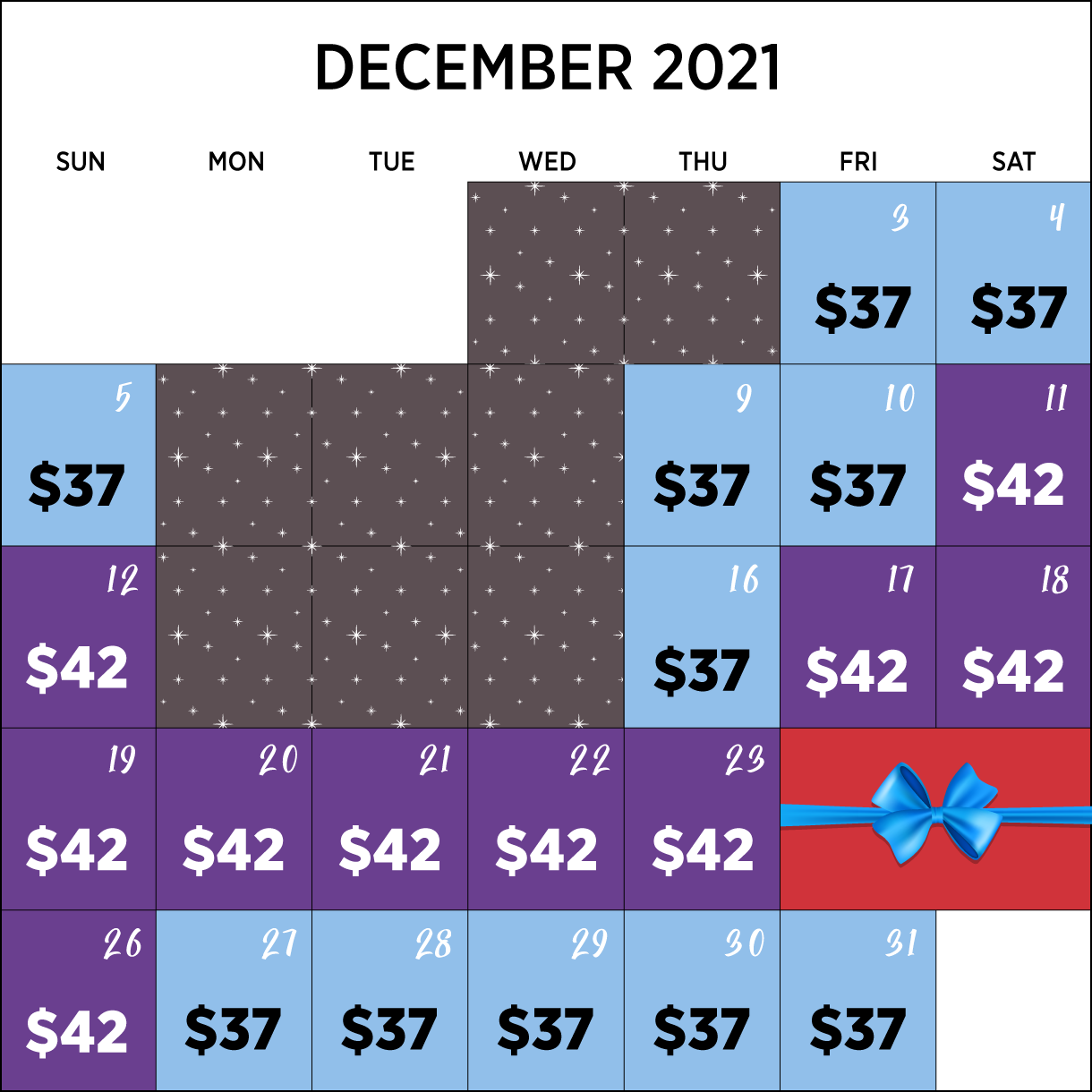 Tickets
$37-42 per vehicle
Prices include tax; fees are extra.
Tickets for PNE WinterLights are per carload and not per person, and must be purchased in advance for a specific day and time slot. There are no tickets available on site.
Ticket prices depend on the date you book for:
$37 per vehicle on Dec 3, 4, 5, 9, 10, 16, 27, 28, 29, 30, 31
$42 per vehicle on Dec 11, 12, 17, 18, 19, 20, 21, 22, 23, 26
Maximum vehicle capacity: 8 guests
Come Hungry
Before you depart on your magical holiday journey through Hastings Park, stop for a hot drink, popcorn, and/or mini donuts… because dessert before dinner, right?
Then, after you've been astounded by the light tunnels, snow globe performers, and found Santa… stop at one of the participating food trucks. These local vendors have added some exciting seasonal items to their menus this year, so grab something yummy to park and eat, or enjoy on the drive home!
Guidelines for a Safe Experience
Purchase tickets online, in advance.
Enter the PNE site at Gate 9 (east side of Playland/Empire Fields), off Bridgeway Street.
Your ticket will be scanned through your window by a TicketLeader staff member. All staff are double vaccinated and will be wearing masks.
After ticket confirmation, proceed as directed to the queue and through each of the nine enchanted lands.
There will be opportunities to stop to get hot drink purchases at the start of the route and you can make food truck purchases at the end of the route. There will also be merchandise and PNE Winter Lottery tickets for sale.
Please remain in your vehicle; feel free to roll down the windows and take photos.
Pull over to eat in the designated spot or proceed to the exit.
Remember to wash or sanitize your hands first before eating.
Partner with PNE WinterLights
Get your brand in front of many young families by sharing your message with our guests!
Our partnerships are a unique opportunity to integrate your brand into the event. Each will be customized to your unique partnership objectives.
Email PNE Partnerships to discuss the various opportunities including our Presenting Partner or Zone Partner programs.
FAQ's
How long is the experience?
The experience will vary from guest to guest depending on some of the optional portions; however, we estimate it will be approximately 30-45 minutes.  Guest options such as food or lottery ticket purchases, and high volume times may extend the time spent in the experience.
When should I arrive for my timeslot?
Guests are encouraged to arrive at close to or anytime within their timeslot.  If you have purchased a 5pm arrival time, please arrive as close to 5pm as you can.  Please do not arrive more than 15 minutes before your timeslot.
Is this event appropriate for young children?
Yes, this is a family friendly event and designed to be enjoyed by children and adults alike.
Are pets Allowed?
Your family pet is allowed to travel to WinterLights with you in your vehicle.
Can we take pictures or videos of the light displays?
Yes, feel free to take as many pictures as you wish.  The driver of the vehicle must not use a phone to take pictures or video while driving. You cannot leave your vehicle to take a photo.
What are your safety and COVID protocols?
For safety reasons, tickets will be scanned through your car window for a fully contactless experience.
Vehicle drivers, or those interacting with our scanning or food staff, are asked to wear a mask.
PNE/TicketLeader staff will be wearing masks, and all are double vaccinated
Are there washrooms available?
No. To comply with our safe operating guidelines, we are not permitted to allow guests to exit their vehicles. We ask that washroom arrangements are made prior to arriving to the event.  Please allow for up to 90 minutes of time spent on our site.
Are there any vehicle restrictions?
Maximum 8 guests per vehicle
No full sizes buses or limousines
Lowered vehicles are not permitted; you must have a minimum of 6 inches of clearance under your vehicle body
Oversize vehicles will have limitations to the experience.  Raised pickup trucks or wide vehicles will need to bypass some attractions, such as the light tunnel.
What if my vehicle breaks down along the route?
If your vehicle breaks down on the route, call 604-505-4135 (Site Security) for assistance. Please remain in your vehicle and wait for assistance.
Anything else I should know?
Tune into the PNE WinterLights show on your car radio at FM channel 90.3
Please ensure your vehicle has enough gas to wait in line and to travel the show route
Maximum speed 5km/h
In case of a medical emergency, please call 604-505-4135 (Site Security)
Absolutely no alcohol or smoking is permitted while visiting
Please keep all waste or recyclables in your vehicle and properly dispose of them after the event
All persons entering the event grounds, do so at their own risk. No liability for loss, injury or damage to any person, property or vehicle will be assumed by the PNE or City of Vancouver.
How does the pricing work?
Tickets for WinterLights are per CARLOAD and not per person. Ticket prices depend on the date you book for.
$37 per vehicle on Dec 3, 4, 5, 9, 10, 16, 27, 28, 29, 30, 31;
$42 per vehicle on Dec 11, 12, 17, 18, 19, 20, 21, 22, 23, 26.
Is proof of vaccination required?
No, a vaccine card/passport is not required for this event, as guests will remain in their own vehicles the entire time, however, the PNE encourages everyone to get vaccinated; all PNE/TicketLeader staff have been double vaccinated.
Book a hotel near the PNE with stay22