Arkells – Rally Cry Tour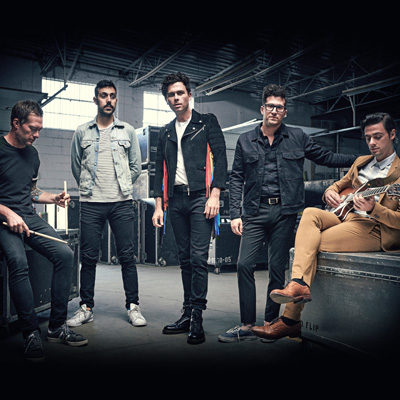 High-energy, chart topping, live-rock'n'roll authorities Arkells are back! With the release of their highly-anticipated new album, Rally Cry, the Hamilton five-piece have announced a 2019 national tour kicking off in Vancouver, BC on February 2nd with very special guests, Lord Huron. "We've built up real relationships with all of these towns over the year," reflects frontman Max Kerman. "Each time we go back, the show means a little bit more. It's our most ambitious tour yet, and we can't wait to make some new memories."
The Rally Cry Tour follows the band's show-stopping headlining performance at The Rally, a one-day summer stadium show held at Hamilton's Tim Hortons Field in front of 24,000 fans this past June. Arkells are thrilled to welcome Lord Huron to the bill as very special direct support. "We've been massive fans of Lord Huron forever, and their latest album Vide Noir is one of the best releases of 2018. It'll be a treat to watch them every night. We can't wait to get back on the road across Canada – we wrote these new songs to play them live for you."
Tickets will go on sale Friday, October 26 at www.livenation.com. Complete Canadian tour listing below.
To ensure tickets for The 2019 Rally Cry Tour get directly in the hands of fans, the band will utilize the Ticketmaster Verified Fan Pre-sale. Registration is open now until Sunday, October 21 at 10pm ET, and you can register here. General Public tickets will go on sale on Friday, October 26 at 10am local time. Special limited VIP packages will be available, and will include a meet and greet and individual photo opportunity with Arkells, VIP access to the Arkells pre-show acoustic set, special commemorative ticket, and more.
Once again, Arkells have partnered with PLUS1 so that $1 from every ticket sold is going to support the rights of refugees and vulnerable migrants in Canada through the Canadian Council for Refugees. Fans can visit www.ccrweb.ca for more information.